Dry Dock Service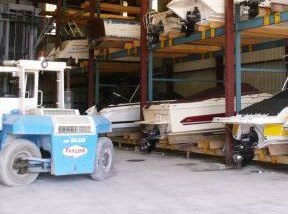 OK.....so it's a great weekend forcast..you've got a couple days off and would like to come up to God's country and enjoy the beautiful lake and well...maybe get your feet wet off the back of your boat! You might live close by and just want the convenience of Dry Dock Service. 
Either way, we offer the ultimate of boating convenience! A call ahead to Northport Marine will put your boat at the "long dock" and it will be ready and waiting for you when you get there...dry, clean and turn key ready. When you are done boating for the day return it to where you picked it up and hop in your car and return to home or cottage. No fighting canvas, mooring covers or fighting to get it straight on the trailer!
Don't you agree? Boating doesn't get much better than this!
Give NORTHPORT MARINE a call and get a quote for Dry Dock Service. 989-876-8931
Here is how it works:
Make a phone call
Find your vessel at the docking area. Clean, dry and ready to go.
Enjoy your boating day on the Saginaw Bay and Lake Huron.
When finished, return your boat to the docking area. We "put it away" for you.